Actor Christopher Harper has accepted a position as Ambassador for Voicing CSA.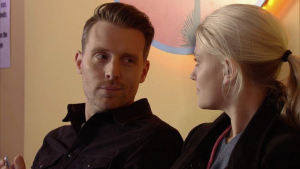 Christopher can currently be seen in Coronation Street playing the character 'Nathan Curtis' who seduces 'Bethany Platt' played by Lucy Fallon. All is not as it seems on the cobbles as 'Nathan' is a perpetrator of sexual exploitation and leads 'Bethany' into what will be the darkest path she will endure.
In the link below Christopher explained the importance of the role he had undertaken in the Street.
http://coronationstreetupdates.blogspot.co.uk/2017/01/coronation-street-blog-exclusive.html
Voicing CSA Chair Phillip Lafferty said ' I am extremely pleased to welcome Chris on board as an Ambassador because the role he is playing in Coronation Street will be beamed into millions of homes around the UK and worldwide it will raise awareness of sexual exploitation. It is a courageous role that he has undertaken and deserves the greatest respect for what is an extremely controversial storyline.'
Phillip met Christopher when he recently spoke at the Escape Charity  launch in Manchester on Saturday 4th February 2017 and spoke of the need for the helpline advertised at the end of an episode needed to ensure that the call would not be itemized on a phone bill because the most vulnerable and isolated would be so controlled it's likely the bill would be going to the very person they feared the most. The Perpetrator.