The US premiere of Voicing CSA: The Mouse took place last week at the Florida Animation Festival. Slurpy Studios were pleased to spread the message of The Truth Project and raise awareness of child sex abuse to another corner of the globe, but this one had an extra layer of achievement, as the film was first placed in the Traditional (International) category.
Voicing CSA (Child Sex Abuse) and The Truth Project work to help adult survivors of child sexual abuse find their voice, and Slurpy Studios were commissioned by Voicing CSA and collaborated with patron Christopher Harper (Nathan Curtis, Coronation Street) and chair Phillip Lafferty, to produce this short film (below) to educate people about the dangers of child sexual abuse and child sexual exploitation.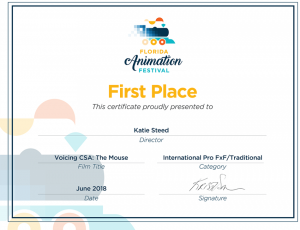 Director, Katie Steed, said:
"I'm absolutely delighted and hugely honoured that The Mouse has won this fantastic award, and most importantly, I am thrilled that by screening this film, the festival was able to get it's message out to a wider audience of people to whom it could potentially make a tiny but vital difference."
Chair and Director of Voicing CSA, Phillip Lafferty, said:
"I am thrilled with the work and effort that Slurpy Studios are putting in to get The Mouse screened globally, I had thought it would help raise awareness in the UK but to see that it has already been screened in 5 continents and is getting recognition on such a scale in simply awesome, if it raises awareness in one person who will recognise child sexual abuse and exploitation is happening and there is something they can do about it then we will have done our job."
The Mouse from Voicing CSA on Vimeo.
Other screenings & festivals
We are extremely proud to announce that The Mouse will be taking part in two different programmes at this year's Hiroshima Animation Festival: Best of the World" and "Animation for Peace". One of the longest running and largest animation festivals in the world, it takes place every 2 years; this year between 23-27th August.
Following on from the Portuguese premiere in March, The Mouse will be screening at the music festival O Sol da Caparica in August, where instead of advertisement between concerts, animated films will be screened.
The Mouse will have its second US screening in September at Conscious Cartoons International Animation Festival, Washington. The festival features three days of animated shorts with socially conscious, humanistic themes.
As part of the Anima Mundi festival in Brazil, The Mouse will be shown in Rio de Janeiro (21-29 July) and Sao Paulo (1-5 August)